Teknion Leverage Cubicles For Sale, Like New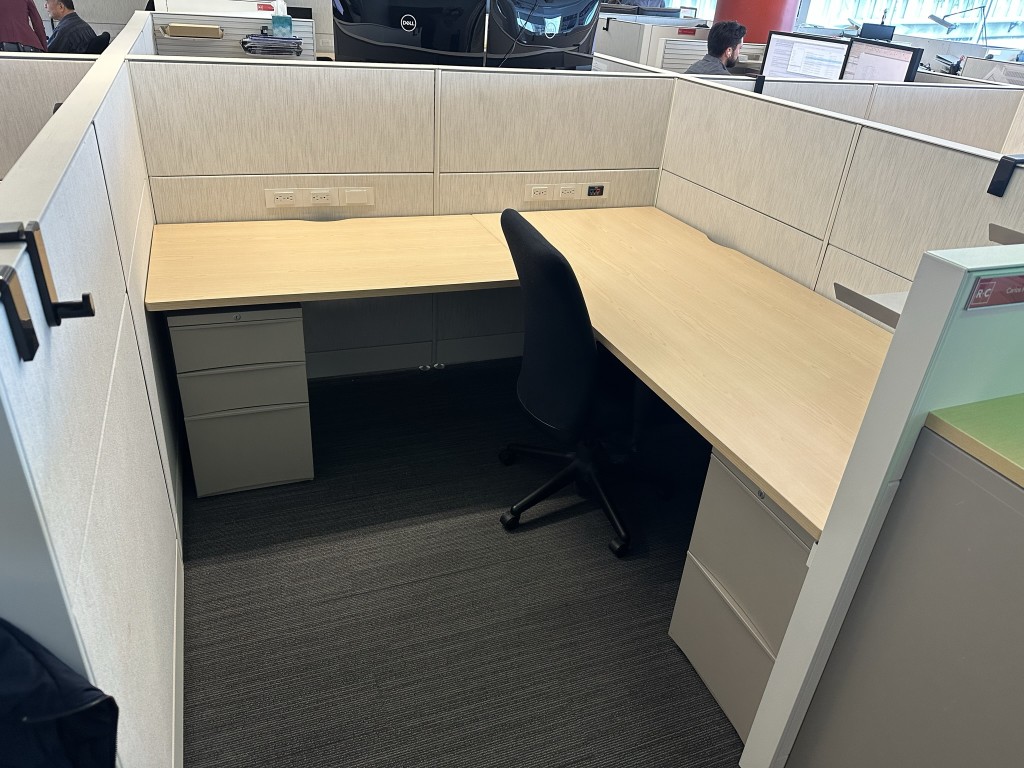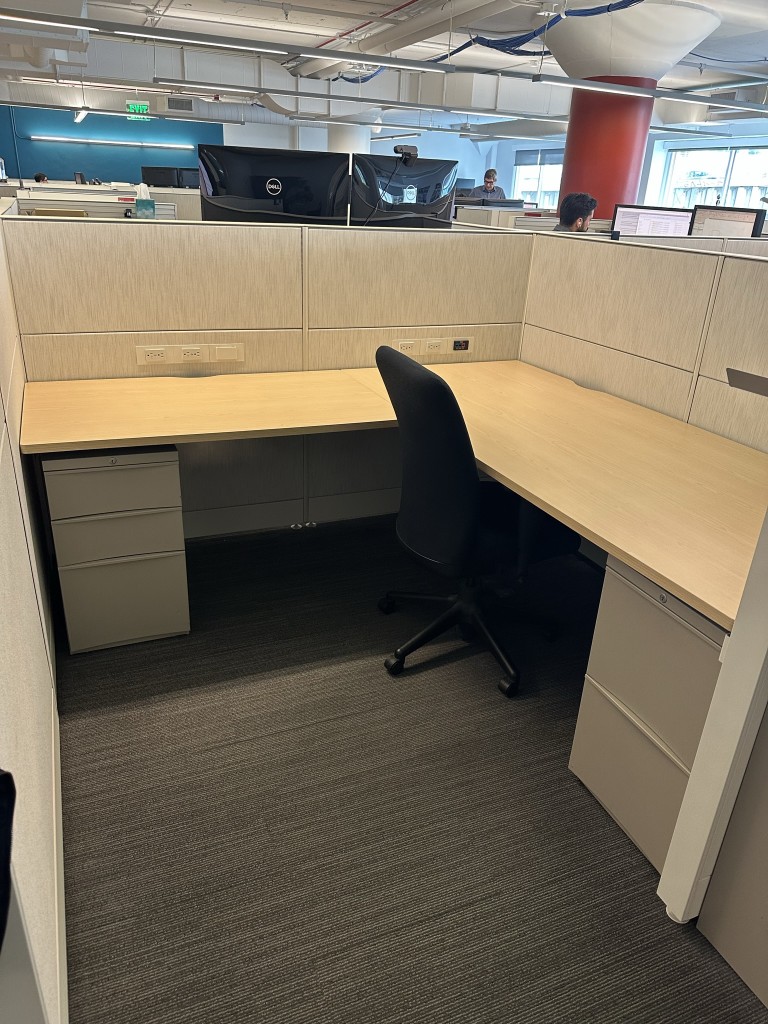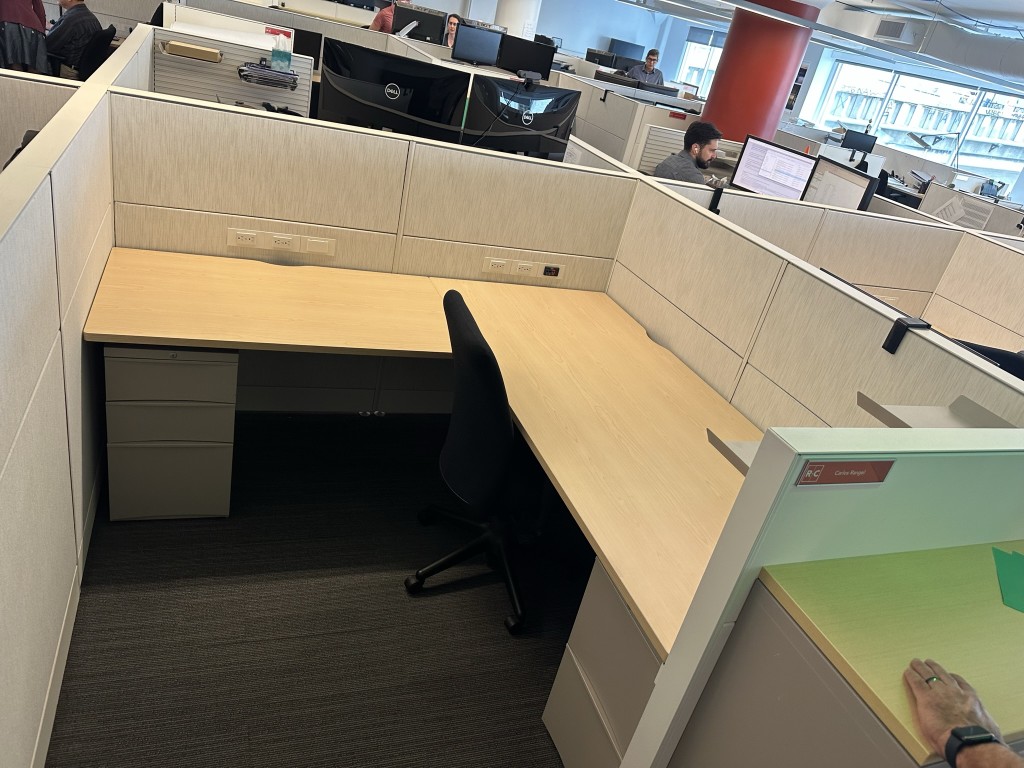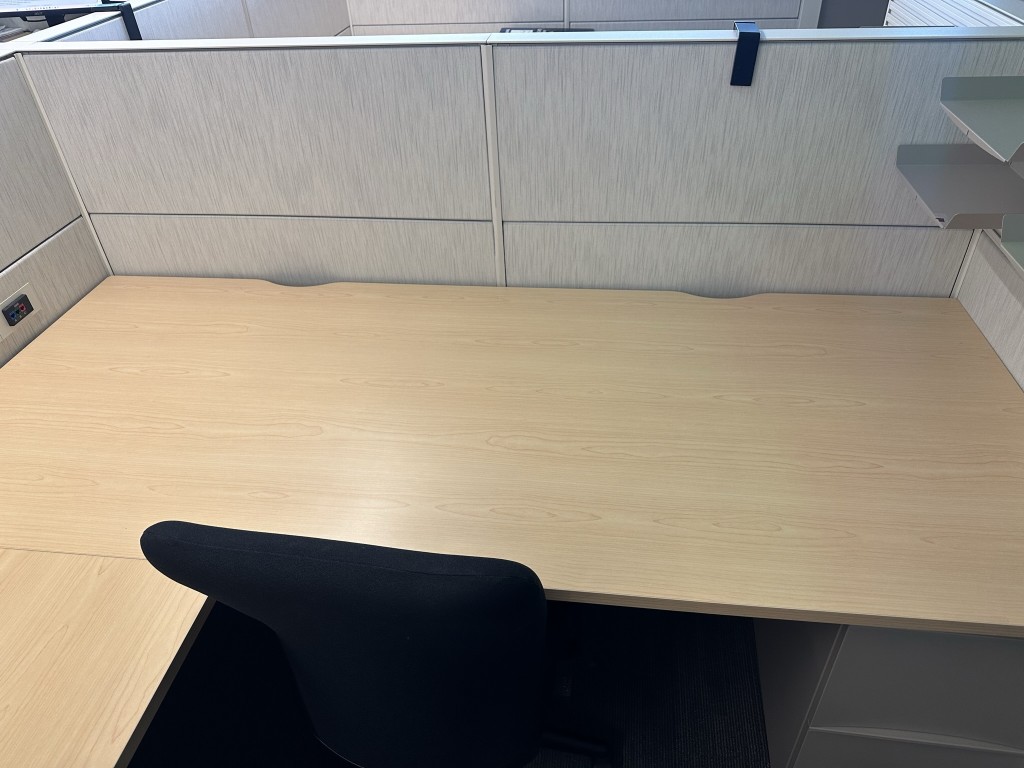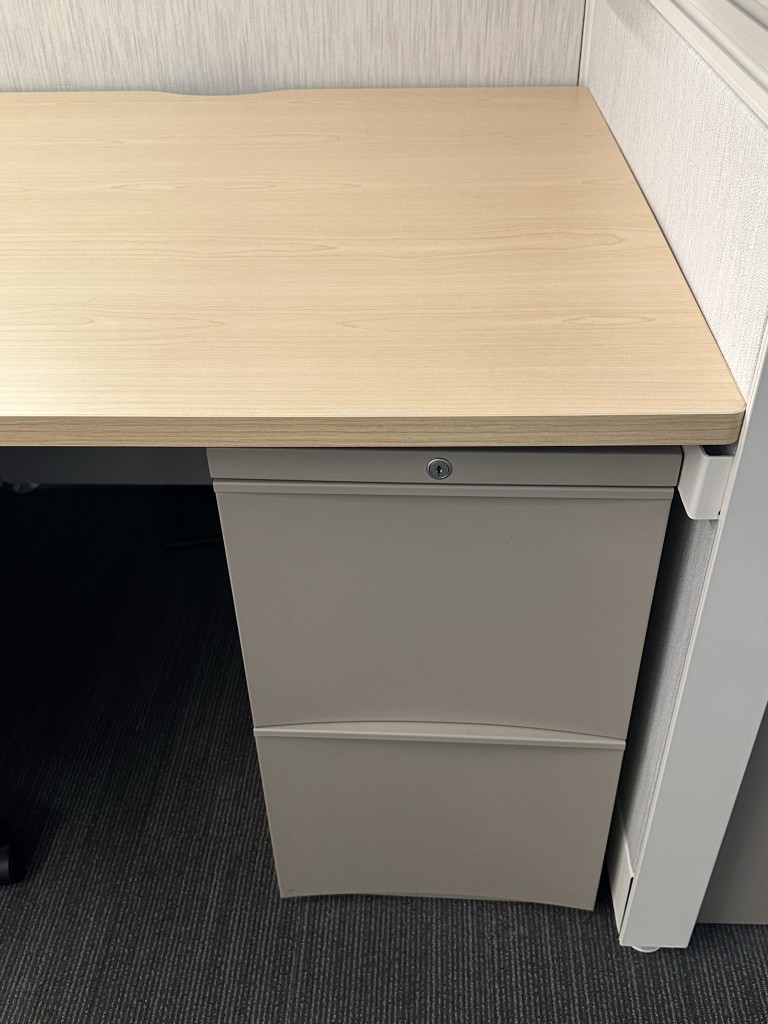 Color:
Beige, Maple, Neutral
Electrical:
8 wire - 4 circuit
Accessories:
Belt-Line Power, Box Box File, File File, Paper Management, Tack-able Fabric
Description
Allow us to introduce you to our latest offering: the exceptional used Teknion Leverage cubicles in the popular 6'x6′ configuration, standing at 52″.
Product: Used Teknion Leverage 6'x6′ Cubicles with Enhanced Features
Are you searching for the perfect blend of style, functionality, and affordability for your office space? Look no further! Our used Teknion Leverage cubicles are designed to provide a seamless balance between privacy and collaboration, creating an environment that fosters productivity and creativity.
Features that Make a Difference:
Optimal Layout: The 6'x6′ footprint provides ample space for your employees to work comfortably, whether they're focused on individual tasks or collaborating with team members.
Thoughtful Design: Standing at 52″ tall, these cubicles strike the right balance between privacy and an open atmosphere, promoting communication while respecting personal space.
Power and Data Accessibility: Each cubicle comes equipped with above-surface power and data outlets, ensuring that your team can stay connected and powered up without the hassle of searching for outlets.
Efficient Cable Management: Bid farewell to cluttered workspaces! The power down the spine walls feature two receptacles each, keeping cables organized and creating a clean and professional look.
Storage Solutions: You'll find the convenience of a box-box-file and a file-file storage solution, allowing your employees to keep their essential documents and belongings within arm's reach.
Paper Management Titles: Stay organized effortlessly with integrated paper management tiles that help categorize and prioritize tasks, ensuring a clutter-free workspace.
Why Choose UsedCubicles.com?
Quality Assurance: Our used Teknion Leverage cubicles undergo rigorous quality checks to ensure they meet our high standards for both aesthetics and functionality.
Cost Savings: Enjoy premium office solutions without the premium price tag. Our pre-owned options allow you to outfit your office with top-notch furniture while staying within your budget.
Sustainable Choice: By opting for used cubicles, you're contributing to a more sustainable future by giving these high-quality pieces a second life.
Professional Expertise: Our team at UsedCubicles.com is committed to providing personalized assistance throughout your buying journey, from selection to installation.
Upgrade Your Workspace Today!
Elevate your office environment with our used Teknion Leverage 6'x6′ cubicles, featuring modern design, smart features, and incredible value. Don't miss out on this opportunity to transform your workspace into a hub of productivity and collaboration.
Contact us today to discuss your requirements, get a quote, and take the first step towards a more efficient and stylish office setup. At UsedCubicles.com, your workspace dreams become a reality without breaking the bank!
Address: 2122 Lariat Trail, Celina TX, 75009
Phone: (800) 561-4173
Email: shelley@usedcubicles.com
Working Days/Hours: Mon - Fri / 8:00 AM - 5:00 PM
Additional information
| | |
| --- | --- |
| Brand | Teknion |
| Size | 6X6 |
| Height | 53" |
| Color | Beige, Maple, Neutral |
| Electrical | 8 wire – 4 circuit |
| Accessories | Belt-Line Power, Box Box File, File File, Paper Management, Tack-able Fabric |
Our staff love the new cubicle setup. Was impressed with the quality of the product.
Thank you guys so much. Shelley was great at selecting colors and the renders were spot on.
Very pleased with how things turned out.
Your team was great to work with. We had several headaches during construction and you guys helped tremendously.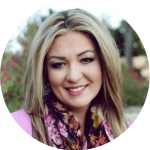 UsedCubicles.com is a family owned and operated company established over 30 years ago. We specialize in used cubicles, desks,chairs and more. UsedCubicles.com was started with one goal in mind, to offer high quality used cubicles at a lower cost than anyone else in the nation. We have five warehouses situated across the U.S. which house over 3,000 cubicles at any given time. This allows us to offer cost effective office furniture options in every state. In addition to selling high end used cubicles we are also a full service contract office furniture dealership selling new products. In fact, almost half of the projects we work on are blended projects, meaning, the customer buys used cubicles but new desks, new seating etc. Blending used and new products allows you to save money while creating an upscale working environment. We would love an opportunity to work on your next project. We have the inventories, skill and experience to move your project from concept to completion on time and under budget.